The Best Alpine Routes in the Rockies & Interior B.C.
1. Mt Gimli South Ridge
Mt Gimli South Ridge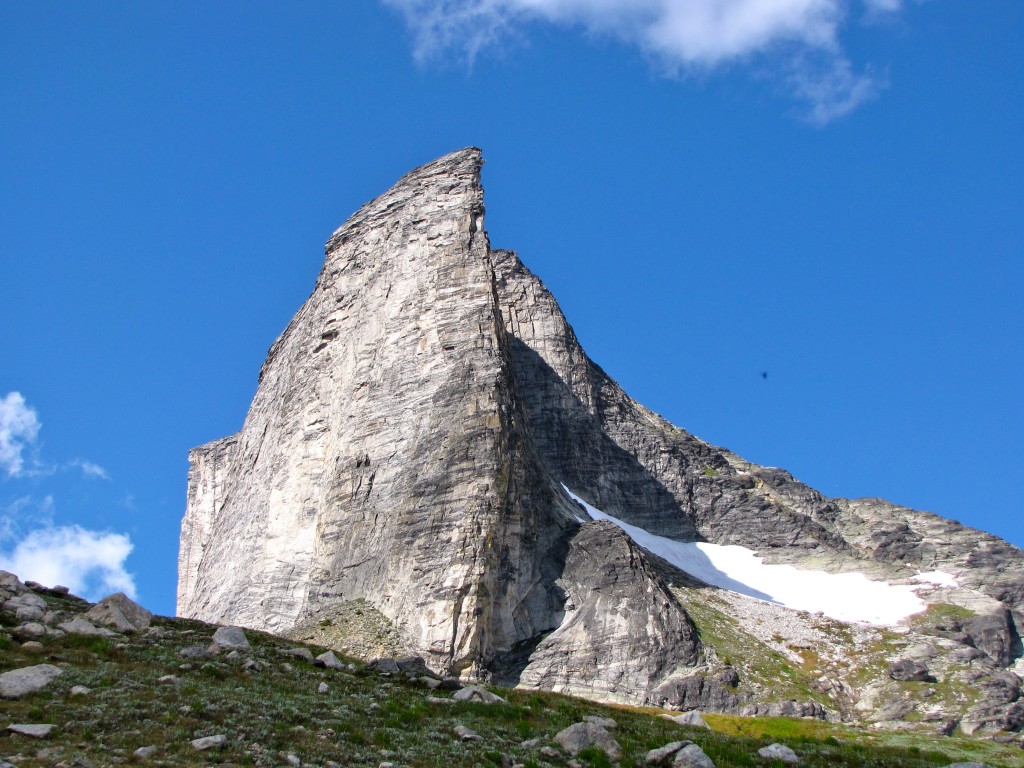 Peak: Mt Gimli
Summit Elevation: 2806 m/9206 ft
Route: South Ridge
Technical Grade and Commitment Grade: 5.10a III
The Valhalla Range is a dramatic group of peaks in the Selkirks of SW British Columbia, about 100km south of Bugaboo Provincial Park. Along the southwestern boundary of Valhalla Provincial Park is an outstanding group of spires including Mount Dag, Wolf's Ears, Gimli, Asgard, and Gladsheim, all over 2,660m. These peaks offer out of this world quality rock climbing on par with the quality of the Bugaboos without the hoards of other climbers, even in high season. The south ridge of Mt. Gimli in Valhalla Provincial Park sees relatively low volume visitation since it is in an out of the way locale in the western Kootenays.
The rock is a mix of intrusive and metamorphosed Gneiss that renders a series of crack weaknesses up a beautiful symmetrical ridge that begs to be climbed. For these reasons, it is one of the 50 Classic Climbs of North America and was first climbed by Fred Beckey. The adventure begins from the quiet little west Kootenay town of Slocan where a Forest Service Road must be driven to get to the trailhead and requires a robust AWD or 4WD vehicle to negotiate the ruts and rough nature of the logging road.
Once at the trailhead, we will hike up a stunning trail with views of Gimli on the way up. The hike up the trail is about 600 meters or 2000 ft of elevation gain (3hrs) before getting to the base of the route and/or the campsite. Water is available for camping and an outdoor toilet facility has been placed and serviced by B.C. Parks. Gimli's South Ridge is about 8-9 pitches of extremely good, steep rock at a modest grade of 5.10a (6th pitch) with a thought provoking 3-move problem through a roof. Apart from the crux roof on pitch 6, the rest of the climbing is mainly 5.7-5.8 of impeccable rock and scaling the summit of this peak is about as rewarding as it gets in this seldom visited and stunning area of SW British Colombia.
This trip is often done as a 1.5-2 day trip as a result of driving, approach, camp and descent logistics. Give us a call or email us to find out more about this exquisite alpine rock climb.
2. West Ridge of Pigeon
Peak: Pigeon Peak
Summit Elevation: 2806 m/9206 ft
Route: South Ridge
Technical Grade and Commitment Grade: 5.10a III
The west ridge of Pigeon is an ultra classic super easy and fun route that is deservedly popular. Comprised of grey/white crystalline granite the entire route, it is a dream like route that will make a lasting impression on you. The positions are perfect and the views are absolutely breathtaking.
The Bugaboos are known for their spectacular towering spires that lurch out of the glacial ice and draw climbers from all over the world looking to experience and to test themselves on these spectacular spires. Once again, most trips into the Bugaboos is done as at least a 3 day trip to approach/climb/descend. Most people however will combine this objective with a few others like the Kain Route on Bugaboo Spire, The NE Ridge of Bugaboo Spire or the Snowpatch Route on Snowpatch Spire.
Some folks prefer to camp and stay at the Applebee Dome campground and others prefer to stay at the ACC Conrad Kain Hut to have running water, electricity and few other creature comforts. Send us an email for more information on how we can customize a trip that personally suited just for you and optimize your safety and time spent in this incredibly spectacular region of the Purcell Mountains.
3. Bugaboo Spire – NE Ridge
Bugaboo Spire - NE Ridge

Peak: Bugaboo Spire
Summit Elevation: 3200 m/10,500 ft
Route: North East Ridge
Grade and Commitment Grade: 5.8 IV
The Northeast Ridge of Bugaboo Spire is about as classy an alpine rock route as they get. It boasts a summit over 3000m/10000 ft on one of North America's most iconic mountains in the Bugaboo Provincial Park that lies with the Purcell Mountains of British Columbia. At 14 pitches of flawless alpine granite with splitter hand cracks, corners and chimneys are what you are after, this route will give you everything you need and more. The summit ridge is a wild airy traverse, and then a descent down the South Ridge (Kain Route) takes you back to either Applebee Dome or the ACC Conrad Kain Hut.
This trip can be linked up with other Bugaboos classics in the region for an unforgettable alpine granite experience. Other classics in the area include Ears Between (5.7), and McTech Arete (5.10a) on the Crescent Spires and McTech areas as well as Surf's Up (5.9) & the Snowpatch Route (5.8) on the West Face of Snowpatch Spire.
A trip to the Bugaboos for one objective is a minimum 3 day excursion as it takes a full day to drive to and hike up the short but steep (800 m elevation gain) approach trail (3-3.5 hours) from the trailhead. Climbing in the Bugaboos is an iconic experience with 3 routes in the Bugaboos which are part of the 50 Classic Climbs of North America.
Give us a call or email for full details on putting together the trip of your dreams. It is a place that is a must do on your list of places to climb, scramble and/or hike.
4. Tower of Babel
The Tower of Babel
5. The Grand Sentinal – Normal Route
The Grand Sentinel is just that - Grand. It is a monolithic quartzite spire tucked in on the north side of Sentinal Pass between two big Lake Louise Rockies peaks - Mt. Temple and
6. Wiwaxy Peak – Grassi Ridge Route
Lake O'Hara is the crown jewel of Yoho National Park. The Grassi Ridge on Wiwaxy is another classic quartzite route. It follows the prominent ridge on Wiwaxy Peak that faces Lake O'Hara. It is ~300 m long, and can be done in 12-13 roped pitches, with some 4th and low 5th class scrambling terrain in between.
The route is rated 5.7 & again is on solid blocky quartzite. The protection on this route is solid, and the views of the surrounding peaks and Lake O'Hara are second to none.
Don't waste you time in the Canadian Rockies climbing chossy mountains - this one rocks!
7. Mt. Edith Cavell – East Ridge
Mt. Edith Cavell East Ridge has the distinction of being one of the 50 Classic Climbs of North America. And classic it is - for good reason.
The route is composed of high quality quartzite rock for the entire route. The route is long and the climbing enjoyable and very accessible to most climbing ability levels.
This route was established again by none other than Conrad Kain with Hickson in 1924.
It is arguably one of the finest and most high quality routes in the Canadian Rockies and has been suggested as also being one of the, if not the best 11,000 ft peak of the entire 54 11,000 ft peaks in the entire Canadian Rockies. That reason is enough to make sure this one is NOT missing from your tick list.
This route combined with some other rock or alpine objectives in the Jasper region is a highly recommended way to make a lasting memory of an unique experience. Get in touch with us for more details.
8. Mt Louis – Kain Route
The Kain Route on Mt. Louis is an ultra classic line for more reasons than one. The route was climbed by uber hardman - Conrad Kain in 1916 in a single day while with his guests! Super impressive feat that remains as a significant challenging day in the mountains.
The difficulties are no harder than 5.6 and that is only on one short pitch near the top of the mountain. Most of the climbing is straightforward low 5th class terrain. Mt. Louis is a true climber's mountain in that it has no easy scrambling (non-technical) routes up it. You have to climb this mountain.
Please give us a call if you are interested in climbing this showcase spire in Banff National Park.
9. Mt Andromeda – Skyladder
The Skyladder route on Mt. Andromeda is a classy snow/ice route that climbs an incredibly proud line up that mountain. It is a few hour approach and a full day alpine route that is best done when snow covered in early summer condition before rockfall is an issue.
As it is snow/ice route, crampons, ice tools and ice screw/pickets are mandatory on this route that also has a technical ascent/descent. Some experience is required for this trip so intermediate experience and possibly some training is a requirement.
Please call for details or to book a trip with us.
10. Mt Bell NE Ridge
This route is one of the most underrated outings in the Rockies. Largely composed of quartzite, it is moderate with tonnes of fun climbing with not a single move harder than 5.4 and views that would rival anything most anywhere in the world for a comparable alpine rock route.
It is a considerable approach and it is a longer day if done in one day for some folks to it can be divided into 2 days if some folks prefer a more laid back amount of hiking an climbing in a single day. The descent is best done when there is still snow down the couloir and snow covers the talus field on the descent into O'Brien Lake.
O'Brien Lake incidentally is easily one of the prettiest little slices of alpine paradise you'll ever see without a soul anywhere around.